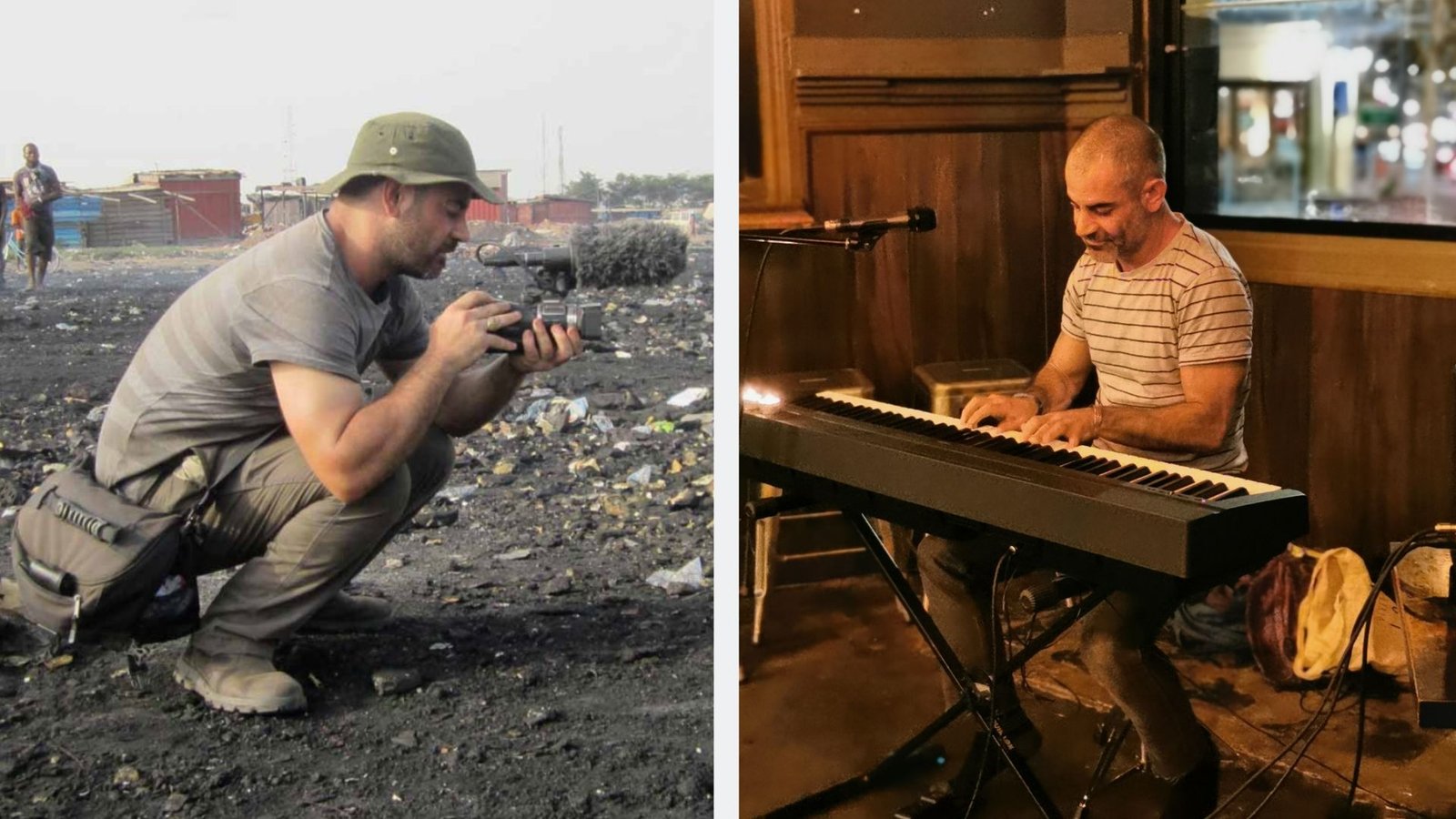 "Rather than love, than money, than fame, give me truth."
Henry David Thoreau
DAVID FEDELE IS AN INDEPENDENT DOCUMENTARY FILMMAKER, MUSICIAN, COMPOSER, EXPLORER AND DREAMER; ALWAYS STRIVING TO PUSH BOUNDARIES WITH HIS ART.
FOR THE PAST TEN YEARS HE HAS BEEN TRAVELING THE GLOBE WITH A VIDEO CAMERA IN HIS BACKPACK, MAINLY DOCUMENTING HUMANITARIAN, ENVIRONMENTAL AND SOCIAL JUSTICE ISSUES, IN A SELF-TAUGHT STYLE WHICH HE CALLS "CINEMATIC JOURNALISM".
DAVID MAINLY WORKS ALONE, SELF-PRODUCING AND SELF-FUNDING HIS OWN PROJECTS, OUTSIDE OF ANY EXISTING SYSTEM OR INDUSTRY. HE SELF-DISTRIBUTES HIS FILMS, WITH A STRONG FOCUS ON GRASSROOTS, INDEPENDENT AND COMMUNITY SCREENINGS AND HE SHARES ALL OF HIS FILMS AND MUSIC FOR FREE ONLINE.
Latest
A LIMINAL SPACE – New Video Podcast Series
I have just launched a new Video Podcast Series called A LIMINAL SPACE.
In these times of great change and miscommunication, A Liminal Space seeks to create and foster a safe and engaging online platform, to initiate and encourage long-form discussions, deep conversation and thought.
Invited guests will be visionaries who cross borders and push boundaries with their work and their art. People who think differently, and are not scared to challenge existing assumptions, and resist the status quo.
Adventurers, risk takers, explorers, shamans, storytellers, healers, dreamers, rebels, scientists, intellectuals, philosophers, and seekers of a deeper truth.
People who are prepared to explore the depths of their own mind and consciousness, in order to expand their vision and perspective of the world in which we live, the societies that we create and inhabit, and offer alternate visions for our future world.
NEW WAYS TO INTERACT WITH MY FILMS AND MUSIC
I AM CURRENTLY EXPERIMENTING WITH NEW AND INNOVATIVE WAYS TO CONNECT AND INTERACT WITH PEOPLE AROUND THE WORLD WITH HIS MUSIC AND FILMS – BOTH IN THE REAL AND ONLINE WORLDS. TO ATTEMPT TO BRING PEOPLE CLOSER TOGETHER IN THESE TIMES OF DISCONNECT.
INTIMATE LIVE ONLINE CONCERT
ONLINE FILM SCREENINGS AND Q&A
EDUCATIONAL SCREENINGS & DISCUSSIONS
PLEASE CONTACT ME TO DISCUSS THE POSSIBILITY OF ORGANISING AN INTIMATE "ONLINE PRIVATE CONCERT" FOR YOU AND YOUR FRIENDS, OR TO ARRANGE AN ONLINE FILM SCREENING AND Q&A, OR IF YOU ARE INTERESTED FOR ME TO ATTEND YOUR SCHOOL, EDUCATIONAL INSTITUTION OR WORKPLACE FOR FILM SCREENINGS AND/OR DISCUSSIONS.
FEEDBACK FROM PRIVATE CONCERTS:
Very soothing music. These global connections are proving to be life changing. So grateful. (Abhilasha Singh)
David's melodies are filled with poetic musical notes that dance through your heart and bestow peace to your soul. (Traci Nicole Smith)
FEEDBACK FROM EDUCATIONAL SCREENINGS & DISCUSSIONS
David – you inspire, challenge and educate our young people and us every time you are with us.
We thank you so much for sharing your vision and passion. You are one in a million. (Sue Cahill – Teacher)
Films
ALL OF MY FILMS HAVE BEEN 100% INDEPENDENTLY PRODUCED, AND ARE ALL AVAILABLE TO WATCH ONLINE FOR FREE BELOW.
I CREATE WORK THAT I AM PASSIONATE ABOUT, AND I DON'T BELIEVE IN LIMITING ACCESS TO ART THROUGH THE CREATION OF FINANCIAL BARRIERS; ALL THAT IS REQUIRED IS JUST AN INTERNET CONNECTION.
WITH THE EXCEPTION OF MY LATEST FILM REVENIR (To Return), WHICH WAS PRODUCED VIA A SUCCESSFUL CROWDFUNDING CAMPAIGN, I WORK ALONE AS A ONE-PERSON FILMMAKER; COMPLETELY INDEPENDENT AND SELF-FUNDING MY WORK.
IF YOU APPRECIATE MY WORK, AND WOULD LIKE TO HELP IN ANY WAY (FOR EXAMPLE: TRANSLATIONS, ORGANISING SCREENINGS, DISTRIBUTION, ETC.) PLEASE SEND AN EMAIL TO: DAVID@DAVID-FEDELE.COM
IF YOU WOULD LIKE TO SUPPORT FINANCIALLY, YOU CAN ALSO PURCHASE MY FILMS ON DVD HERE, OR MAKE A DONATION BELOW.
YOUR SUPPORT WILL ALLOW ME TO REMAIN INDEPENDENT, AND HELP ME TO CONTINUE TO MAKE FILMS AND COVER STORIES THAT THE MAINSTREAM MEDIA DOESN'T PAY NEARLY ENOUGH ATTENTION TO, AS WELL AS ASSISTING ME TO DISTRIBUTE MY EXISTING FILMS, AND CONTINUE TO MAKE ALL OF MY WORK AVAILABLE ONLINE FOR FREE.
BUT THE MOST IMPORTANT WAY THAT YOU CAN SUPPORT MY ONGOING WORK IS BY WATCHING, AND SHARING MY FILMS WITH THE WORLD.
Journalism
Australian Asylum Policies: Resettling Refugees in Papua New Guinea
I have recently spent six weeks in the city of Lae in Papua New Guinea, with unique access to the first group of refugees resettled from Manus Island, and have been able to experience their resettled life first-hand.
I have written an article that was published in THE GUARDIAN newspaper, and have given a number of radio interviews – you can read and listen below.
"I have witnessed the total lack of mental support and infrastructure provided to these men, who – fresh from the trauma of their time in detention – have been left to fend for themselves far away from media scrutiny and the national spotlight. I have also witnessed scenes of despair and disillusionment as they realise the reality of their "resettled" life is very different from what they were led to believe, and at odds with the hollow rhetoric and political spin that is being fed to the Australian public. Papua New Guinea is an extraordinary country very close to my heart, but I can say with absolute surety that it is not an appropriate country in which to resettle refugees."
(Excerpt – Resettling Refugees in Papua New Guinea: A tragic theatre of the absurd | The Guardian Newspaper | David Fedele | 20th May 2016).
Read full article below.

Shop
FILMS NOW AVAILABLE ON DVD
News
My new single "Mezzanotte" now available on the compilation album: HERE AND NOW
Released – April 2020 (Blue Spiral Records)
My latest single "Mezzanotte" is now available on the compilation album "HERE AND NOW", released by Blue Spiral Records.
This album is in response to the Covid-19 pandemic, and 21 pianists from around the world have united to write a piece of music in an attempt to describe our feelings in these unprecedented times.
100% of all proceeds from sales of the album will be donated to a hospital in Naples (Italy), where a team of specialists are working hard every day, in an attempt to find an effective treatment against the virus.
New single of solo piano – "Mezzanotte"
Released – March 2020 (Blue Spiral Records)
I'm honoured to have been asked by the Italian record label Blue Spiral Records to provide a new piano composition for a special compilation album just released called "Here and Now", as an artistic response to the current Covid-9 pandemic.
My personal challenge was that I only had ONE DAY to compose the song, as I was on the road and without an instrument … I finally managed it, and have named the song "Mezzanotte" (which is "Midnight" in Italian …. The time I finally finished the song!).
Live Concert "An Evening with David Fedele" – Available on all digital platforms
My new live album is out now, available to listen, stream and download on all digital platforms.
New Live Concert – "An Evening with David Fedele"
Recorded in my apartment in Melbourne, this intimate live concert includes songs from my three previously released albums Synapsis, Unrequited and A Liminal Space, as well as my latest single La Luna, plus the unreleased bonus track Solitude.
New single of solo piano – "La Luna"
Released – August 2019 (Blue Spiral Records)
"LA LUNA" IS MY LATEST SINGLE OF SOLO MINIMALIST PIANO MUSIC, RELEASED IN AUGUST 2019 BY BLUE SPIRAL RECORDS. NOW AVAILABLE TO LISTEN TO, STREAM AND DOWNLOAD ON ALL MAJOR PLATFORMS .
"La Luna immediately puts the listener into a contemplative space, inviting you to consider the vastness of the universe, and what may exist beyond."
SHEET MUSIC FOR LA LUNA, ALONG WITH MY THREE ALBUMS "A LIMINAL SPACE", "SYNAPSIS" AND "UNREQUITED", IS NOW AVAILABLE TO DOWNLOAD, FOR FREE OR DONATION.
New film – "REVENIR" (To Return)
For years, the stories of West African migrants and refugees have been told through the lenses of foreign journalists. Now there is a story from the inside.
Part road-trip, part memoir, part journalistic investigation, REVENIR follows Kumut Imesh, a refugee from the Ivory Coast now living in France, as he returns to the African continent and attempts to retrace the same journey that he himself took when forced to flee civil war in his country … But this time with a camera in his hand.
A controversial film experiment, a courageous journey and a unique collaboration between filmmaker and refugee; which is not without consequences.
REVENIR (To Return) is available to watch online for free, with subtitles available in 12 languages.
The production of "REVENIR (To Return)" was funded via a successful crowdfunding campaign, thanks to the support of 242 people from 35 countries around the world, under the working title "Clandestine Crossing".
NEW ALBUM OF SOLO PIANO COMPOSITIONS – "A LIMINAL SPACE"
"A LIMINAL SPACE" IS MY THIRD ALBUM OF SOLO MINIMALIST PIANO MUSIC, NOW AVAILABLE TO LISTEN TO, STREAM AND DOWNLOAD ON ALL MAJOR PLATFORMS (ALONG WITH MY PREVIOUS TWO ALBUMS "SYNAPSIS" AND "UNREQUITED".
SHEET MUSIC FOR MY THREE ALBUMS "A LIMINAL SPACE", "SYNAPSIS" AND "UNREQUITED" IS NOW AVAILABLE TO DOWNLOAD, FOR FREE OR DONATION.
REVENIR (To Return) wins Jury Award at the Document Human Rights Film Festival 2018
REVENIR (TO RETURN) RECEIVED THE "JURY AWARD" AT THE DOCUMENT HUMAN RIGHTS FILM FESTIVAL 2018 IN GLASGOW, SCOTLAND.
STATEMENT OF THE JURY:
"We want to commend the film REVENIR and especially Kumut Imesh for his extraordinarily brave, honest and interrogative approach to his journey, past and present. At a time when we may feel our media is saturated with horrific tales of displaced people's ordeals and public debate seems obsessed only with these people's legitimacy, this film, and specifically Kumut's manner and intuitive filmmaking ability, provided a fresh and much needed point of view on these events. His inherent ability to connect the human experience of others created the same connection for the audience. We wish the filmmakers every success in the future." 
Interview on Austrian Television
"OKTOSKOP" (December 2018)
IN MAY 2018, I WAS INTERVIEWED IN VIENNA FOR THE AUSTRIAN TELEVISION STATION "OKTOSKOP" ABOUT THE MAKING OF REVENIR (To Return).
THE FILM WAS BROADCAST ON OKTOSKOP ACROSS AUSTRIA ON SUNDAY 2nd DECEMBER AND SUNDAY 9TH DECEMBER, ALONG WITH THE FULL 24-MINUTE INTERVIEW, WHICH IS NOW AVAILABLE TO WATCH ONLINE.
MASTERCLASS – "WHOSE STORY IS IT? REPRESENTATION, RESPONSIBILITY AND AUTHORSHIP"
ETHNOCINECA International Documentary Film Festival, Vienna, Austria (May 2018)
I WAS INVITED TO PRESENT A "DOCUMENTARY MASTERCLASS" AT THE ETHNOCINECA INTERNATIONAL DOCUMENTARY FILM FESTIVAL IN VIENNA, AUSTRIA IN MAY 2018, ON THE TOPIC OF "WHOSE STORY IS IT? REPRESENTATION, RESPONSIBILITY AND AUTHORSHIP."
THE FULL 2-HOUR MASTERCLASS IS NOW AVAILABLE TO WATCH/LISTEN TO ONLINE.
New short film – "CHARISSA DEVILLE"
THIS EXPERIMENTAL SHORT FILM FEATURES THE AMAZING DANCER AND HULA PERFORMER CHARISSA DEVILLE, AND IS INTENDED TO TAKE THE VIEWER ON A SHORT "VISUAL TRIP".
New short film / multimedia project – "REFLECTIONS ON A GENOCIDE"
THIS FILM COMBINES STILL PHOTOS THAT I TOOK AT THE TUOL SLENG S-21 PRISON IN PHNOM PENH (CAMBODIA), WHICH IS NOW A GENOCIDE MUSEUM, AND MY OWN ORIGINAL PIANO COMPOSITION "THE DEPARTED" FROM MY SECOND ALBUM SYNAPSIS.
IT EXPLORES THE GENOCIDE IN CAMBODIA BETWEEN 1975-1979, WHERE IT IS ESTIMATED THAT UP TO 2 MILLION PEOPLE WERE KILLED, UNDER THE RULE OF THE KHMER ROUGE.
New video clip / short film – "CATERINA"
A TRIBUTE TO MY COUSIN CATHY ROACH (NOVIELLO), WHO SPENT MOST OF HER LIFE IN AND OUT OF HOSPITAL, UNTIL SHE WAS TAKEN AWAY FROM US IN SEPTEMBER 2015.
AN EXTRAORDINARY WOMAN, WHO DESPITE ALL OF THE CHALLENGES THAT WERE UNFAIRLY AND RELENTLESSLY THROWN AT HER, LIVED LIFE PASSIONATELY, WITH AN INCREDIBLE OPTIMISM AND RESILIENCE. SHE WILL NEVER BE FORGOTTEN.
New short film – "UNAPOLOGETICALLY ME"
KIRRA VOLLER IS A 25 YEAR OLD SINGER-SONGWRITER, POET AND ACTIVIST. SHE IS A PROUD WIRANGU WOMAN, AND HAS LIVED IN MPARNTWE (ALICE SPRINGS) SINCE SHE WAS 11.
"UNAPOLOGETICALLY ME" INVITES US TO EXPERIENCE THE POWER AND RAW EMOTION OF KIRRA'S MUSIC, AS SHE JOINS FELLOW MUSICIAN ANDERS PFEIFFER FOR AN IMPROVISED AFTERNOON OF MUSIC IN THE STREETS OF MPARNTWE.
New short film – "NO MUSIC FOR HATE"
"NO MUSIC FOR HATE" INVITES YOU TO ENTER THE WORLD OF MOROCCAN MUSICIAN SAID BENMSAFER, FOR AN AFTERNOON OF IMPROVISATION AND EXCHANGE; AS HE JOINS THE SICILIAN MUSICIAN ALESSANDRO VENZA ON A MUSICAL JOURNEY OF DISCOVERY AND BEAUTY.
CROSSING BORDERS AND EXCHANGING CULTURES.
New short film – "AN IMPROVISED NIGHT WALK WITH LIVIA GIAFFREDA"
ORIGINALLY FROM PUGLIA IN SOUTHERN ITALY AND NOW BASED IN PALERMO (SICILY) – LIVIA GIAFFREDA IS AN AMAZING SINGER OF TRADITIONAL AND FOLK MUSIC.
ON THIS EVENING, WE ARE INVITED TO COME ON A VERY SPECIAL NIGHT WALK WITH LIVIA THROUGH THE STREETS OF PALERMO, WHERE SHE WILL PERFORM FOUR SONGS, ALL IMPROVISED. A BEAUTIFUL VOICE AND A MAGICAL ATMOSPHERE.
New short film – "NOUS SOMMES DES MESSAGERS" (We are Messengers)
PART DOCUMENTARY, PART IMPROVISED CONCERT, THIS 15 MINUTE SHORT FILM IS A PORTRAIT OF TWO AMAZING SENEGALESE MUSICIANS WHO ARE CURRENTLY LIVING IN MOROCCO, MBEMBA DIABATE AND WALOWALO NIANGBALO, AND INTRODUCES THE AUDIENCE TO THE TRADITIONAL AND MYSTICAL MUSIC AND INSTRUMENTS OF SENEGAL.
New short film – "The Doves of Vucciria"
"THE DOVES OF VUCCIRIA" PRESENTS A SHORT PORTRAIT OF AUSTRALIAN ARTIST CHIPS MACKINOLTY, AND FOLLOWS HIM AS HE TEACHES A GROUP OF LOCAL SCHOOL CHILDREN IN PALERMO, SICILY (ITALY) ABOUT HIS STREET ART, AND THEY LEARN HOW TO CREATE THEIR OWN ART.