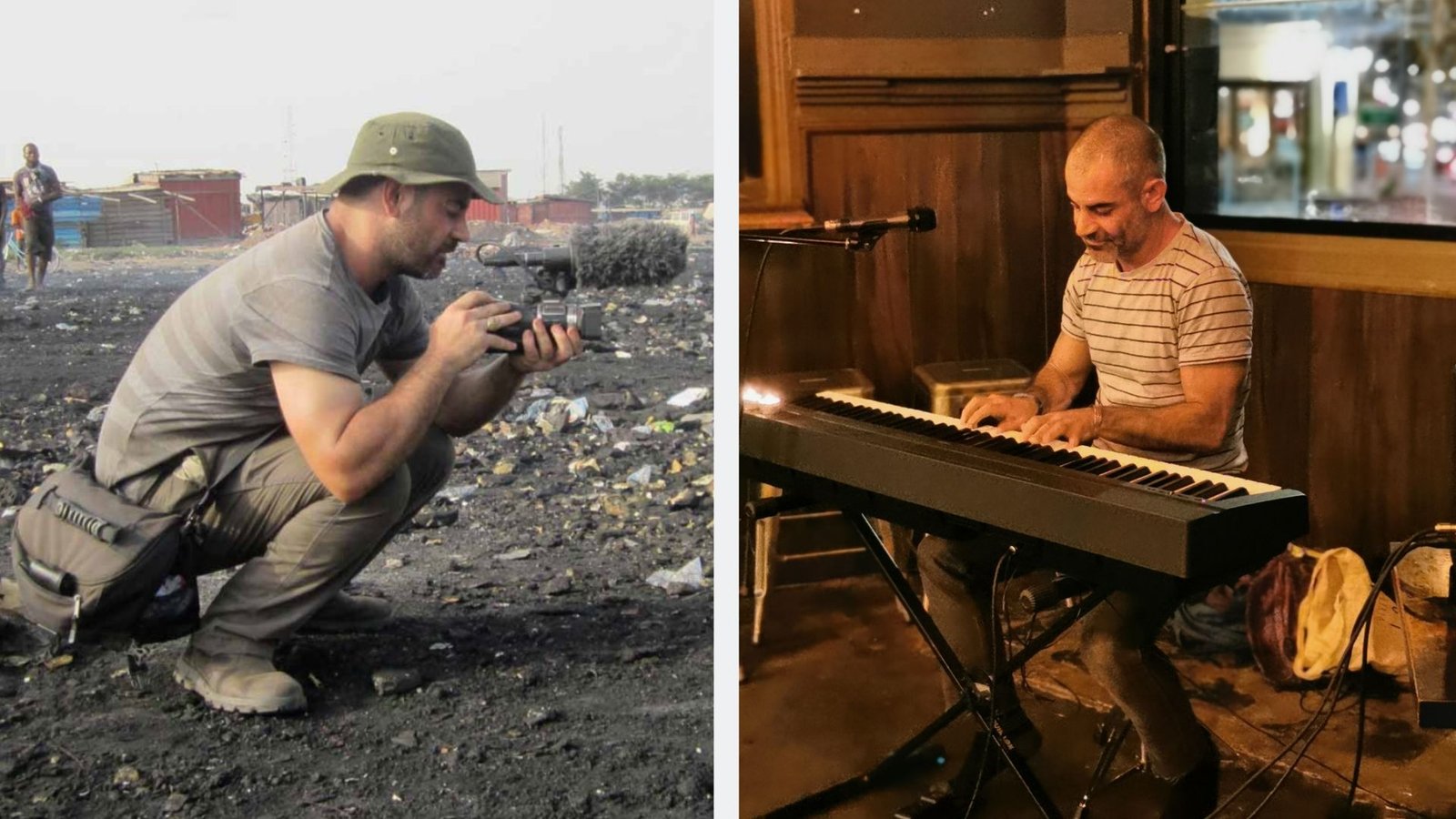 "Rather than love, than money, than fame, give me truth."
Henry David Thoreau
Latest
New film – "REVENIR" (To Return)
THE INDEPENDENT PRODUCTION OF "REVENIR" WAS FUNDED VIA A SUCCESSFUL CROWDFUNDING CAMPAIGN, THANKS TO THE SUPPORT OF 242 PEOPLE FROM 35 COUNTRIES AROUND THE WORLD, UNDER THE WORKING TITLE "CLANDESTINE CROSSING".
NEW ALBUM OF SOLO PIANO COMPOSITIONS – "A LIMINAL SPACE"
"A LIMINAL SPACE" IS MY THIRD ALBUM OF SOLO MINIMLAIST PIANO MUSIC, NOW AVAILABLE TO LISTEN TO, STREAM AND DOWNLOAD ON ALL MAJOR PLATFORMS (ALONG WITH MY PREVIOUS TWO ALBUMS "SYNAPSIS" AND "UNREQUITED".
SHEET MUSIC FOR MY THREE ALBUMS "A LIMINAL SPACE", "SYNAPSIS" AND "UNREQUITED" IS NOW AVAILABLE TO DOWNLOAD, FOR FREE OR DONATION.
REVENIR (To Return) wins Jury Award at the Document Human Rights Film Festival 2018
REVENIR (To Return) received the Jury Award at the Document Human Rights Film Festival 208 in Glasgow, Scotland.
Here is the Jury's statement:
"We want to commend the film REVENIR and especially Kumut Imesh for his extraordinarily brave, honest and interrogative approach to his journey, past and present. At a time when we may feel our media is saturated with horrific tales of displaced people's ordeals and public debate seems obsessed only with these people's legitimacy, this film, and specifically Kumut's manner and intuitive filmmaking ability, provided a fresh and much needed point of view on these events. His inherent ability to connect the human experience of others created the same connection for the audience. We wish the filmmakers every success in the future." 
Interview on Austrian Television
"OKTOSKOP" (December 2018)
IN MAY 2018, I WAS INTERVIEWED IN VIENNA FOR THE AUSTRIAN TELEVISION STATION "OKTOSKOP" ABOUT THE MAKING OF REVENIR (To Return).
THE FILM WAS BROADCAST ON OKTOSKOP ACROSS AUSTRIA ON SUNDAY 2nd DECEMBER AND SUNDAY 9TH DECEMBER, ALONG WITH THE FULL 24-MINUTE INTERVIEW, WHICH IS NOW AVAILABLE TO WATCH ONLINE.
MASTERCLASS – "WHOSE STORY IS IT? REPRESENTATION, RESPONSIBILITY AND AUTHORSHIP"
ETHNOCINECA International Documentary Film Festival, Vienna, Austria (May 2018)
I WAS INVITED TO PRESENT A "DOCUMENTARY MASTERCLASS" AT THE ETHNOCINECA INTERNATIONAL DOCUMENTARY FILM FESTIVAL IN VIENNA, AUSTRIA IN MAY 2018, ON THE TOPIC OF "WHOSE STORY IS IT? REPRESENTATION, RESPONSIBILITY AND AUTHORSHIP."
THE FULL 2-HOUR MASTERCLASS IS NOW AVAILABLE TO WATCH/LISTEN TO ONLINE.
New short film / multimedia project – "REFLECTIONS ON A GENOCIDE"
THIS FILM COMBINES STILL PHOTOS THAT I TOOK AT THE TUOL SLENG S-21 PRISON IN PHNOM PENH (CAMBODIA), WHICH IS NOW A GENOCIDE MUSEUM, AND MY OWN ORIGINAL PIANO COMPOSITION "THE DEPARTED" FROM MY SECOND ALBUM SYNAPSIS.
IT EXPLORES THE GENOCIDE IN CAMBODIA BETWEEN 1975-1979, WHERE IT IS ESTIMATED THAT UP TO 2 MILLION PEOPLE WERE KILLED, UNDER THE RULE OF THE KHMER ROUGE.
New short film – "UNAPOLOGETICALLY ME"
KIRRA VOLLER IS A 25 YEAR OLD SINGER-SONGWRITER, POET AND ACTIVIST. SHE IS A PROUD WIRANGU WOMAN, AND HAS LIVED IN MPARNTWE (ALICE SPRINGS) SINCE SHE WAS 11.
"UNAPOLOGETICALLY ME" INVITES US TO EXPERIENCE THE POWER AND RAW EMOTION OF KIRRA'S MUSIC, AS SHE JOINS FELLOW MUSICIAN ANDERS PFEIFFER FOR AN IMPROVISED AFTERNOON OF MUSIC IN THE STREETS OF MPARNTWE.
New short film – "NO MUSIC FOR HATE"
"NO MUSIC FOR HATE" INVITES YOU TO ENTER THE WORLD OF MOROCCAN MUSICIAN SAID BENMSAFER, FOR AN AFTERNOON OF IMPROVISATION AND EXCHANGE; AS HE JOINS THE SICILIAN MUSICIAN ALESSANDRO VENZA ON A MUSICAL JOURNEY OF DISCOVERY AND BEAUTY.
CROSSING BORDERS AND EXCHANGING CULTURES.
New short film – "AN IMPROVISED NIGHT WALK WITH LIVIA GIAFFREDA"
ORIGINALLY FROM PUGLIA IN SOUTHERN ITALY AND NOW BASED IN PALERMO (SICILY) – LIVIA GIAFFREDA IS AN AMAZING SINGER OF TRADITIONAL AND FOLK MUSIC.
ON THIS EVENING, WE ARE INVITED TO COME ON A VERY SPECIAL NIGHT WALK WITH LIVIA THROUGH THE STREETS OF PALERMO, WHERE SHE WILL PERFORM FOUR SONGS, ALL IMPROVISED. A BEAUTIFUL VOICE AND A MAGICAL ATMOSPHERE.
New short film – "NOUS SOMMES DES MESSAGERS" (We are Messengers)
PART DOCUMENTARY, PART IMPROVISED CONCERT, THIS 15 MINUTE SHORT FILM IS A PORTRAIT OF TWO AMAZING SENEGALESE MUSICIANS WHO ARE CURRENTLY LIVING IN MOROCCO, MBEMBA DIABATE AND WALOWALO NIANGBALO, AND INTRODUCES THE AUDIENCE TO THE TRADITIONAL AND MYSTICAL MUSIC AND INSTRUMENTS OF SENEGAL.
New short film – "The Doves of Vucciria"
"THE DOVES OF VUCCIRIA" PRESENTS A SHORT PORTRAIT OF AUSTRALIAN ARTIST CHIPS MACKINOLTY, AND FOLLOWS HIM AS HE TEACHES A GROUP OF LOCAL SCHOOL CHILDREN IN PALERMO, SICILY (ITALY) ABOUT HIS STREET ART, AND THEY LEARN HOW TO CREATE THEIR OWN ART.
Films
Journalism
Australian Asylum Policies: Resettling Refugees in Papua New Guinea
I have recently spent six weeks in the city of Lae in Papua New Guinea, with unique access to the first group of refugees resettled from Manus Island, and have been able to experience their resettled life first-hand.
I have written an article that was published in THE GUARDIAN newspaper, and have given a number of radio interviews – you can read and listen below.
"I have witnessed the total lack of mental support and infrastructure provided to these men, who – fresh from the trauma of their time in detention – have been left to fend for themselves far away from media scrutiny and the national spotlight. I have also witnessed scenes of despair and disillusionment as they realise the reality of their "resettled" life is very different from what they were led to believe, and at odds with the hollow rhetoric and political spin that is being fed to the Australian public. Papua New Guinea is an extraordinary country very close to my heart, but I can say with absolute surety that it is not an appropriate country in which to resettle refugees."
(Excerpt – Resettling Refugees in Papua New Guinea: A tragic theatre of the absurd | The Guardian Newspaper | David Fedele | 20th May 2016).
Read full article below.

Shop
FILMS NOW AVAILABLE ON DVD